Sean Martin on PGA TOUR – June 18, 2018: The phrase "U.S. Open player" used to be more descriptive than a Myers-Briggs result. Only a specific personality type had consistent success in this nation's championship.
The U.S. Open's constrictive setups required players to walk the straight and narrow. The "U.S. Open player" was more concerned with staying out of trouble than a sheriff's son. He had sharp creases in his khaki pants and organized his sock drawer for fun. He calculated risk like an actuary.
No more. Brooks Koepka broke the mold with his historic performance at Shinnecock Hills. The man whose biceps bulge out of his tailored sleeves is now the first player in nearly three decades to win this championship in consecutive years. A Sunday 68 gave him a 72-hole total of 281, two shots better than Tommy Fleetwood.
"The traditional U.S. Open player is changing. The player in general is changing," said Curtis Strange, who had been the last back-to-back U.S. Open champ (1988-89). "It's a different game than when Hale (Irwin) and I were playing. … You still have to put it in the fairway more often than not, but it's all about power."
Koepka showed that at Erin Hills, where he wielded driver with impunity in a dominant display. He tied the U.S. Open's scoring record (16 under par) while missing just 10 greens. He led in greens hit while ranking in the top 10 in both driving distance and accuracy that week.
That modern course carved from the Wisconsin dairy land sent traditionalists into a tizzy with its wide fairways and soft greens, though. Erin Hills was making its U.S. Open debut. Shinnecock Hills is an 18-hole history lesson. It's the only course to host this event in three different centuries, dating to the second U.S. Open in 1896.
Shinnecock Hills is a traditional test but Koepka compiled similar statistics in his victory. He finished second in driving distance (318.3 yards), fourth in greens hit (49 of 72) and second in Strokes Gained: Putting (+2.13 per round).
"I'm proud of him because there was so much talk about Erin Hills not being a (true) U.S. Open and that he was a big hitter and the whole thing," Strange said, the last man to win back-to-back U.S. Opens (1988-89). "He won on a classic, so he's an Open player."
That phrase has a new meaning in 2018. Now well-rounded bombers take an aggressive approach to the U.S. Open's penal layouts. Long hitters used to be one-dimensional players who sacrificed short-game touch in their quest for strength. Now technology helps players like Koepka and Dustin Johnson hit the ball longer and straighter, and these athletic players combine high swing speed with the hand-eye coordination that helps them have a deft touch around the green.
That's why two of the TOUR's longest hitters – Koepka and Johnson – have been this tournament's top players over the past five years. Koepka hasn't finished outside the top 20 in the past five Opens, including his back-to-back wins and a fourth-place finish at Pinehurst in 2014. Johnson has four top-4 finishes since 2014, including his win two years ago at Oakmont. The two friends from South Florida have won the last three U.S. Opens.
"The best quote I ever heard is somebody asked Hogan years and years ago if the players today were better. He said, 'I hope so because if they weren't we would not have contributed anything to the game,'" Strange said. "(Koepka) is a good striker of the ball and he's strong and he has a good short game. "He'd beat me like a yard dog."
Strange fit the old U.S. Open mold. He ranked outside the top 150 in driving distance in 1989 but hit more than three-quarters of his fairways. Koepka can hit long irons farther than Strange's average tee shot (254 yards) that season.
One requirement has remained constant over the decades, though. The U.S. Open demands fortitude. The thick rough and firm greens can drive players mad. Koepka thrives when other players complain.
"If you start complaining, you're looking for excuses," he said. "I'm not really one to make excuses. … The U.S. Open is always going to be a tough test of golf. I enjoy that."
Koepka's instructor, Claude Harmon III, said that in this regard, Koepka is in the ilk of past U.S. Open champions like Strange and Raymond Floyd, who won at Shinnecock Hills in 1986.
"They were these characters, tough and mean," Harmon said. "Brooks has a very similar demeanor. Nothing bothers him."
Long par putts are some of the game's most stressful shots and always key in a U.S. Open victory. Koepka showed his strength under such duress by finishing eighth in putting from 5-10 feet (71 percent). The obsession with length can make many overlook Koepka's strong short game.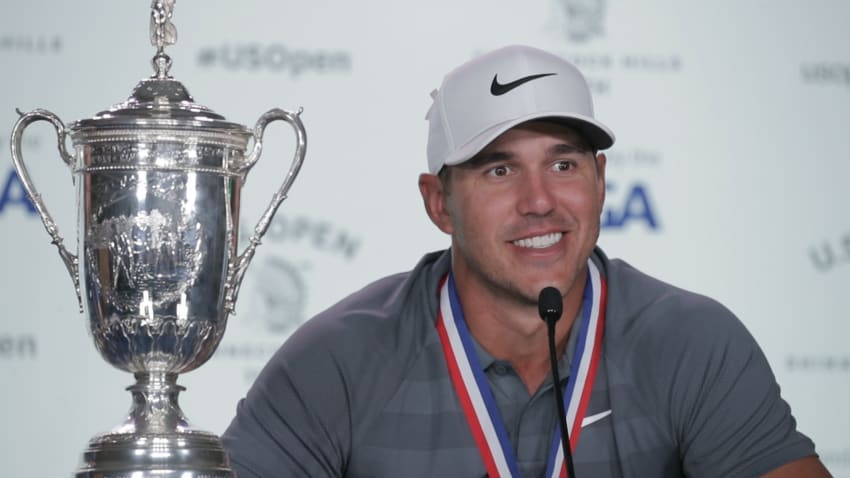 "I felt like I made those clutch 8- to 10-footers that you need to make to keep the momentum going," he said.
With Tommy Fleetwood already in the clubhouse at 2 over after shooting 63, Koepka knew he had to play Shinnecock Hills' difficult back nine in even par. A birdie at 10 gave him a two-shot cushion but he was happy to make bogey on the par-3 11th. He pulled his wedge shot, which hit the slope behind the green and bounded into the fescue. His best option was to bang his second shot through the green and into a bunker.
He holed a 13-footer for a bogey that was more gratifying than many birdies. He had to hole a 6-foot par putt at the next hole after missing both the fairway and the green.
Two holes later, he had to scramble again at the course's hardest hole after another pushed tee shot. More than 10 people had to look for his ball even though it was just a few yards after the fairway. After hacking out of the hay, he got up-and-down from 67 yards by holing a 9-footer.
It wasn't until a birdie at the long par-5 16th, where he wedged to 4 feet, that his lead looked safe.
"Physical skills alone don't win tournaments," Strange said. "You have to have the whole package. He was 7 over at one point on Friday. How do you turn it around? Not everyone can do it. You have to be mentally tough to believe in yourself."
Koepka showed both in his historic win.