July 16, 2019: The 22-year-old County Cork native James Sugrue prevailed in a tense 36-hole battle against Scotland's Euan Walker at Portmarnock in June to etch his name on the Amateur Championship trophy.
But his triumph came with an extra cherry on top in the form of a spot in the field at The Open for the return of golf's oldest major to Northern Ireland after a 68-year hiatus.
And Sugrue's excitement for the occasion he's been dreaming of since he first picked up a club was clear for all to see during his press conference at Royal Portrush on Tuesday.
"It's cool, really, to just be in the locker room," he said. "There's this little corner where it's like the champions corner and Tiger's locker is behind mine and Ernie Els is next to me. It's a bit surreal."
As if playing in his first Open on home soil wasn't enough, Sugrue will also join compatriot and 2011 Champion Golfer Darren Clarke in the first group of the day on Thursday.
Sugrue and honorary starter Clarke will be joined by American Charley Hoffman as the trio kick off The 148th Open, with the group scheduled to get play underway at 6.35am.
Yet rather than being daunted by taking on such a responsibility, Sugrue is determined to relish every moment despite being less keen on the prospect of an early wake-up call.
"I'm really looking forward to it, especially to find out that I'm playing with Darren as well in the first group," he said.
"It's just a dream come true. I've watched The Open my whole life and just to get a chance to play in it is unbelievable."JAMES SUGRUE ON HIS OPEN DEBUT
"I'm probably not going to enjoy setting the alarm for 4am in the morning. But I am going to enjoy it when I get out there. I'm going to be the first on the greens, first on the range.
"I played with Darren in Portmarnock actually, we have this champions weekend thing. If you win a boys tournament, you go to Portmarnock for the weekend, and Darren will play golf with you.
"I played nine holes with him. He's unbelievable. I've never seen anyone to be able to hit a driver off the deck like he does. You tell him what shot to hit and he can hit it.
"He's unbelievable. He's one of the best ball-strikers out there. I can't wait to play with him."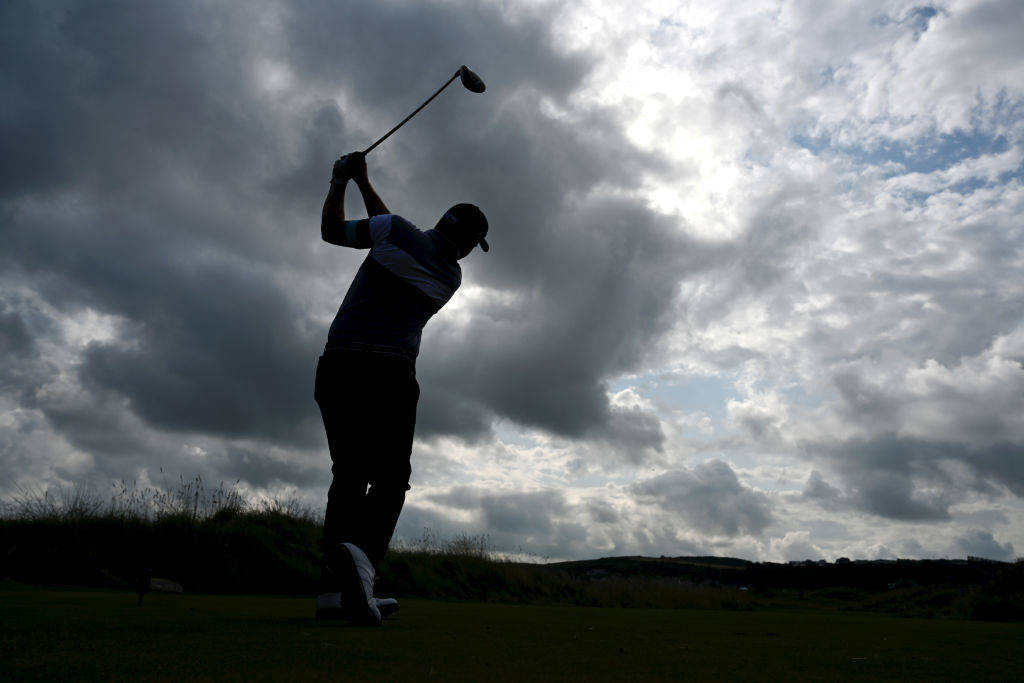 The Mallow man was first to admit that his nerves on the first tee in his practice round did get the better of him, however, after toying with the out of bounds down the right.
"The most nervous I've ever been? I was pretty nervous in Portmarnock at times," he said. "I was actually quite nervous hitting my first tee shot [in my first practice round].
"The grandstands just come right around you and there wasn't even that many people in the grandstands, so I can only imagine what it's going to be like on Thursday.
"I'm just trying to block out all those grandstands and all those people and just try and play decent golf. It's definitely not an easy thing to do, especially when there's people moving and shadows."
Should he overcome those first-tee jitters, Sugrue revealed his first priority is to secure his safe passage through to the weekend – beyond that, he has not set himself any targets.
"Hopefully to make the cut," he said, when asked about what would be a good result. "That's the first goal and then kind of go from there. I don't really have any number in my head.
"I'm not thinking about being top-20 or top-30 or anything. I'm just going to try to make the cut first of all and most importantly, I'm just going to try and enjoy myself and see where it takes me."
The Open Release