July 17, 2019: As the home hero, Rory McIlroy is under more scrutiny than ever this week but the 2014 Champion Golfer is keeping things in perspective at Royal Portrush.
With The Open back in Northern Ireland for the first time in 68 years, McIlroy is the star attraction and his form, coupled with his knowledge of the Dunluce Links – where he first played aged 10 – suggests he will be among the contenders come Sunday night.
That prospect has created an intense fervour among the locals that only Tiger Woods can probably empathise with.
But the 30-year-old insists this week is about so much more than him. With the backdrop of The Troubles now washed away, Northern Ireland – and Royal Portrush – is at the centre of the sporting world for the first time in 68 years and their superstar talent is relishing it.
"One of my mantras this week is: Look around and smell the roses. This is a wonderful thing for this country and golf in general," he said. "To be quite a big part of it is an honour and a privilege.
"And I want to keep reminding myself of that, that this is bigger than me; right? This is bigger than me.
"If you can look at the bigger picture and you can see that, it sort of takes a little bit of the pressure off.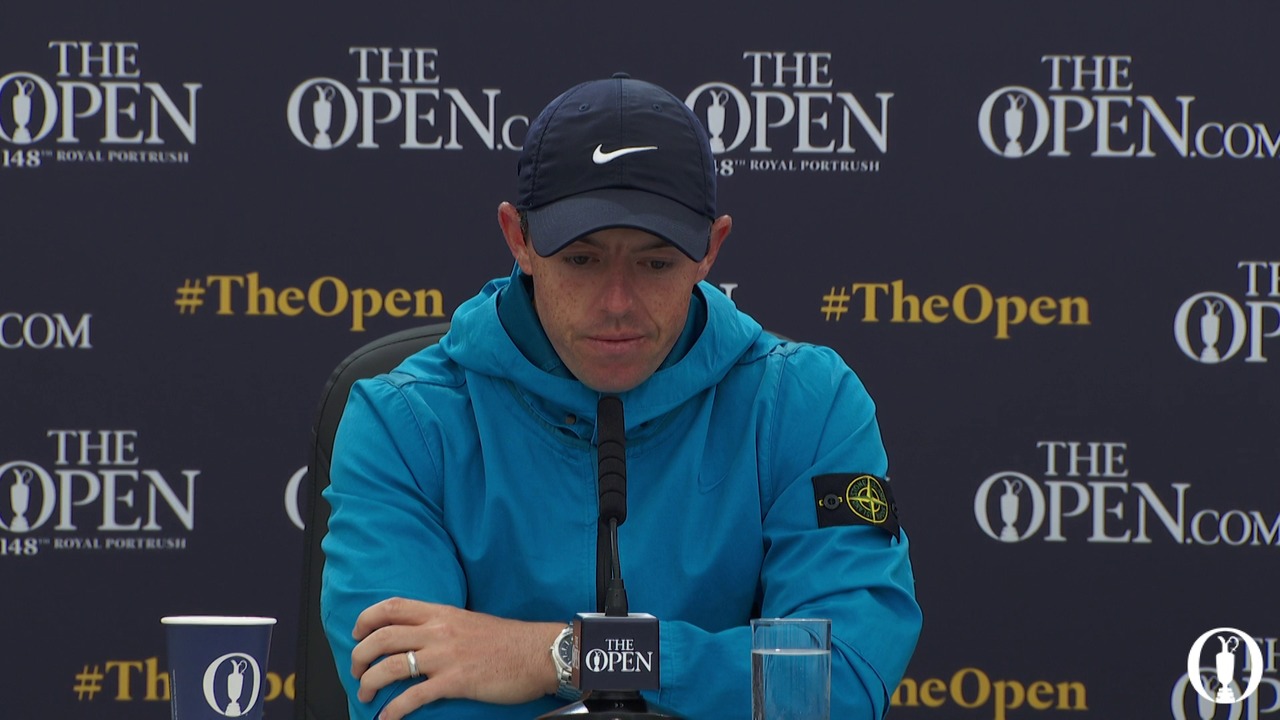 "I still want to play well and concentrate and do all the right things, but at the same time just having that perspective might just make me relax a little bit more."
As he has proven throughout his career, a relaxed McIlroy is a dangerous McIlroy and he arrives in hot form.
Although he has not added to his four majors this season, the right-hander has scored victories at The Players Championship and Canadian Open, while also finishing T-8 at the PGA Championship and T-9 at the US Open.
To add to that, he knows the Dunluce Links better than most and holds the course record after shooting a 61 in 2005, aged just 16.
The pressure is therefore very much on. But as soon as he walks onto the course, it all washes away.
"I've played well here before. I know what I'm doing around here. I sort of was worried, I got here last Saturday thinking the course is going to change, the set-up for an Open might be different. And I got here, and it's still the same place," he said.
"I said this last week, I had dinner booked — I hadn't seen my mum in three months. I had dinner booked with my parents on Saturday night at 8pm, thinking I'm going to have to spend some time around the greens and just prepare.
"And I got on the road back home and rang them and said 'can we move dinner up? Because I finished early.' There's no difference. It's the same golf course.
"I think I was making it a little bit bigger in my head than it needed to be. And I've played this place enough times to know where to miss it, where not to miss it, where the good leaves are.
"No matter if there's grandstands around or if there's not, or if there's a lot of people or if there's not, it's the same golf course."
After being dazzled by his excellence for the last 15 years, the locals will also hope it's the same old Rory.
The Open Release