PGA TOUR Feature, 29 May 2019: When a 34-year-old Jack Nicklaus officially opened Muirfield Village Golf Club on May 27, 1974, he unveiled an imperfect masterpiece, though a masterpiece nevertheless.
Although Nicklaus already was golf's all-time leader in major championship victories, he was still a relatively inexperienced course designer, having worked on fewer than a dozen, many in collaboration with fellow Ohioan Pete Dye. But the young Golden Bear possessed the most critical eye for shot values, and he possessed an uncompromising vision for the overall presentation of his dream course. It opened to rave reviews, was highly ranked when it debuted on Golf Digest's list of top courses in America and was widely complimented by his peers when he hosted the first Memorial Tournament in 1976.
And, yet, until a few years ago, when he redesigned the par-3 16th hole and built a new tournament tee for the par-4 18th in preparation for the 2013 Presidents Cup, Nicklaus continually had tinkered with his prized layout, transforming that imperfect masterpiece into one of the most revered designs in the world.
Not only is Muirfield Village the site this week of the 44th playing of the Memorial Tournament presented by Nationwide, but it also has been the venue for some of golf's most popular and prestigious events. It is the only golf course in the world to host the Ryder Cup, Solheim Cup and Presidents Cup. It also was the site of the 1992 U.S. Amateur.
Long before Muirfield Village hosted any of those prestigious events or even the first Memorial Tournament, Nicklaus made clear his intentions and aspirations for Muirfield Village as "a showplace of what the game of golf should be."
To do that, he had to have a very clear blueprint – even if just in his head, which mostly it was – and the proper amount of inspiration.
The latter was not difficult to find.
---
As early as 1965, not long after witnessing the enthusiastic reception his hometown showered on the 1964 PGA Championship at Columbus Country Club, Nicklaus pondered the viability of bringing a PGA TOUR event to central Ohio.
A year later – and just days before becoming the first back-to-back Masters winner in 1966 — he turned his thoughts to actions, charging his friend Ivor Young with the task of finding a property suitable for bringing his plans to fruition.
He was barely into his fourth year as a professional golfer.
A farm in the undeveloped Columbus suburb of Dublin was the second site that Young showed Nicklaus. Riding shotgun was Dye, who introduced Nicklaus to design across town at The Golf Club in New Albany the year prior, and he couldn't have been more enthusiastic about the initial 180 acres that Nicklaus ultimately purchased.
"Curly," Dye said, uttering his pet name for Nicklaus, "this is the best site I've ever seen that doesn't have mountains or the ocean—the best inland site I've ever seen."
Looking back several years later, Nicklaus acknowledged sharing Dye's view.
"It's a pretty site. When I saw it, I like the way it flowed through the valleys, and I knew I wanted to create a gallery golf course. The valleys were wide enough to accommodate that goal," said Nicklaus, who, in essence, is the true inventor of "stadium golf" with the elevated vantage points he blended into Muirfield Village.
"I can't say I was a golf course designer because I didn't have much experience. I just liked the property. When it came to designing the course, it was about finding the best areas. There were two creeks that came together at one end of the property, which today is where the creeks come down at 11 and 15. We had another creek that came down where the second hole is now, coming down from the fifth hole. That creek goes out at the third hole, providing the drainage for the property. I just worked myself back through those valleys."
Construction began on July 28, 1972. Long before then, Nicklaus and Dye had sketched out an initial routing. Later, he collaborated with Desmond Muirhead on a land plan. Those who witnessed the transformation of the property into the lush golf course that opened two years later marvelled at the process.
Ed Etchells, the first-course superintendent, was on site throughout the construction process and couldn't remember there being many site plans, telling Paul Hornung for "The Story of Muirfield Village" that "mostly it was Jack's verbal instruction and waving his arms."
"It was mainly by-the-seat-of-my-pants design," the Golden Bear conceded.
But that didn't mean he didn't have a vision. Most certainly he did.
---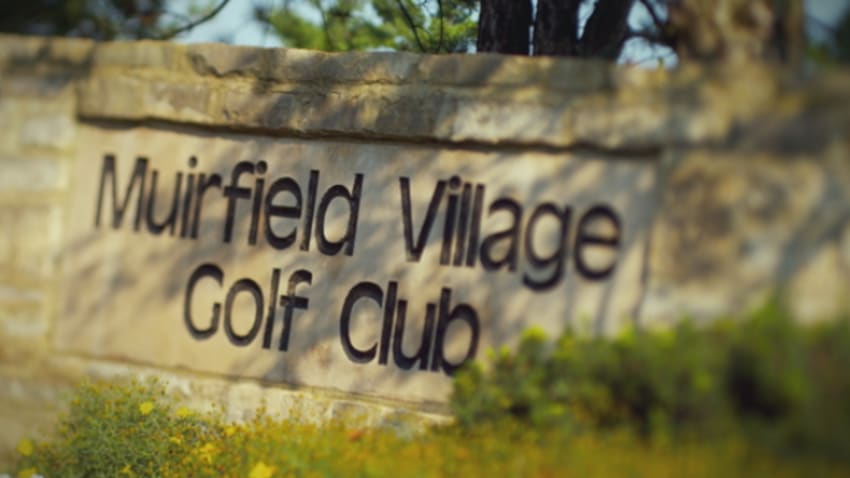 This was true from the outset at Muirfield Village, and it did not go unnoticed. During the first Memorial Tournament, Lee Trevino noted that "with the exception of Augusta, we'd never seen anything like Muirfield."
As for the design of the layout, Jack borrowed liberally from the best source at his disposal – his encyclopedic mind.
"I realize that imitation is the sincerest form of flattery, but in no way is [Muirfield Village] meant to resemble the old Muirfield or any other course," he once said. "The fact that I like Augusta National has nothing to do with the design of this course, either. This course is really a conglomerate of what's happened to me in my life and what the game of golf has meant to me."
The "old" Muirfield to which Nicklaus was referring is the course of the Honorable Company of Edinburgh Golfers in Gullane, Scotland, where he won the 1966 Open Championship to complete the career Grand Slam. It also happened to be where he was introduced to golf in Great Britain when he played in the 1959 Walker Cup.
When it came time to give his project a name, Muirfield Village seemed most appropriate, especially because the property sat in a low valley, or moor. As a further nod to how meaningful the Open Championship has been to him (he has won it three times among his record 18 professional major titles), Nicklaus got permission to incorporate the Claret Jug into the Muirfield Village crest, though it appears backwards as a gesture of respect to the R&A.
There is no escaping the fact that Nicklaus appreciates the work of Donald Ross, who designed Scioto Country Club, the course where the young Golden Bear learned the game growing up.
But when it comes to his overarching approach to course design, Nicklaus, in his book, "Nicklaus by Design," writes that Bobby Jones "influenced my design philosophy enormously through his and Alister Mackenzie's design strategy at Augusta National. Augusta's overarching philosophy is to give you plenty of room off the tee and then to place a premium on the second shot. Most of my life I've played that way."
It is in that vein that Muirfield Village resembles Augusta National. (That and the par-3 12th hole and the recently renovated par-3 16th bear some similarities with their numerical counterparts at Augusta.) With its wide fairway corridors trundling to difficult and well-bunkered greens, Muirfield Village demands approach shots of proper distance control and placement, not necessarily close to the hole but on the correct side.
"I've always liked this golf course," said Tiger Woods, who has won the Memorial Tournament a record five times. "I played here in the Amateur, and I absolutely loved it then and loved it like a pro, because you have to play to certain spots and make your way around the course. We all know that Jack built an incredible golf course."
And it only has gotten better.
There have been significant, though not necessarily overt, changes throughout and the course yardage has steadily increased – as all tournament courses must – from 6,969 yards at the outset to today's current 7,392 yards. Nature has done its part in changing the layout, mostly through the loss of ageing trees.
Jack has done the rest.
The most consequential changes have come in the last two decades and focused on Muirfield Village's finish.
Nicklaus first reworked the par-4 17th hole in 2002 and gave it both teeth off the tee and around the elevated green while stretching it to 478 yards. In 2011, in preparation for the Presidents Cup, he tore up the par-3 16th and installed a beauty measuring 201 yards and replete with a pond tucked up to the front of the green that was smaller than the original and repositioned horizontally to the teeing ground. The iconic par-4 home hole, a dogleg right par 4 with a well-bunkered, elevated green, always was arduous, but then Nicklaus gave it a new tee in 2013, adding 40 yards and making it 484 yards.
Together they comprise one of the strongest three-hole closing stretches in tournament golf. Since 2003, the stroke average on those three holes is 0.600 over par. The only course PGA TOUR pros play on an annual basis that is tougher is Wells Fargo's last three holes (with a stroke average of more than 0.900 over par).
"Through the years," Nicklaus explained, "I have made a lot of changes, some for the sake of the members, some to improve the spectator experience, and some simply to make the golf course a better and stronger test. Like any designer, I want the course to show well and be able to hold up against the game's best players, so I have tried to find ways to preserve shot values.
"I think all golf courses are in continual evolution. I do," he added. "Muirfield Village has been that way. You see something that can make it better and you go do it. But Muirfield Village is intrinsically the same golf course. You could go through the golf course and compare what it was when it opened and where it is today and you'd think the difference was night and day. But done over time you don't notice it."
---
In June of 2010, prior to the 35th Memorial Tournament, then-PGA TOUR Commissioner Tim Finchem took to the podium to announce that Muirfield Village Golf Club would host the 2013 Presidents Cup. The selection of Muirfield Village was more than just a nod of appreciation to Memorial Tournament Founder and Host Jack Nicklaus, who served four times as captain of the U.S. Presidents Cup team. It was a recognition of something special that Nicklaus had created in his hometown area.
"Jack created Muirfield Village to illustrate his passion for tournament golf and challenge the world's best players," Finchem remarked. "The selection of Muirfield Village as the site of the next Presidents Cup in the United States is confirmation of what the golf club and Jack Nicklaus have meant to the history of our sport."
After hosting the 1987 Ryder Cup and 1998 Solheim Cup, Muirfield Village was now on a path to a historic third "cup" event. There wasn't a thing that needed to be done in preparation, but Jack and his wife Barbara did them anyway.
Jack made his changes to the golf course – and also made major upgrades to the practice facility, while Barbara took the lead in a remarkable and breathtaking renovation of the clubhouse that includes luxury suites, expanded outdoor dining for members, a permanent television broadcasting booth and an iconic clock tower.
More recently, a modern workout room was added, and later this year a shiny new tournament headquarters will be completed. Nothing escapes the attention of the Nicklauses.
"When you take into account that at its core, Muirfield Village Golf Club has one of the most highly rated and universally respected golf courses in the world and you add to it the accompanying clubhouse, lodging and support facilities not to mention 5-star service, you would be hard pressed to find a more complete golf facility today," said Dan Sullivan, executive director of the Memorial Tournament presented by Nationwide.
"It speaks to the vision of Jack and Barbara Nicklaus to build a world-class facility that is without question the leader in the club industry and it's a beacon of pure excellence that sets an example for every other tournament site."
"Muirfield Village is like the Mona Lisa," said Nicholas LaRocca, the general manager, who has been at Muirfield Village since 1997. "It's a masterpiece. It's Jack masterpiece in the game of golf. How can you possibly improve on a masterpiece? And yet Jack and Barbara Nicklaus continually find ways of doing that. Every year there is something new, not because anything was wrong; just to make it better. Their commitment to excellence is amazing."
Nicklaus, 79, once said that Muirfield Village means more to him than his playing career. Considering what that career entails – those 18 majors, 73 PGA TOUR titles overall, many more wins around the world and a significant role in making the TOUR the overwhelming success it is today – that's quite a statement.
"I've obviously spent more time here, more effort, and worked harder on this golf course to get it more the way I want it probably than any other golf course," said Nicklaus, whose prolific design career includes more than 300 layouts. "Obviously, it's where my passion was when I grew up. This is where I grew up. This is where I wanted to bring golf back to. This is where I wanted to say thanks to the community who had supported me for all the years that I played.'
"I've poured most of my life into what's happened here … the golf course and everything else," he added. "It's been a fairly emotional thing for me. I can't think of anything else that I've been more involved in more completely other than my family and my playing golf than Muirfield Village."
It shows. Of all the great strokes Jack Nicklaus executed in his career, Muirfield Village Golf Club might be one of his finest – a stroke of genius.
Republished from the PGA TOUR